COMMUNITY MEDIA ONLINE: RESEARCH APPROACHES AND PRACTICES OF FUNCTIONING - CASE OF ETHNIC MEDIA
Palavras-chave:
community media, society centered approach, media centered approach, digital communication, Russian-speaking communities
Resumo
The article considers conceptual approaches to community media studies. According to the authors, the dominant society centered and media centered approaches need to be clarified and in some cases revised. On the material of ethnic communities' digital media, the conclusion was done that the community centered approach may be relevant in this case, and such an approach deserves special development in research. For empirical study, digital media of Russian-speaking communities were taken, 3 from Finland and 3 from Lebanon.
Downloads
Não há dados estatísticos.
Referências
ALTERNATIVE and Community Media. Various Forms of Community Media. Retrieved from: http://www2.amk.fi/digma.fi/eetu/www.amk.fi/opintojaksot/0702010/1204871263088/1204871755653/1204871860182/1204874765272.html.
BUCKLEY, S. (Ed.) (2011). Community Media: a Good Practice Handbook. Paris: UNESCO.
CARPENTIER, N., SERVAES, J. and LIE, R. (2003). Community Media: Muting the Democratic Media Discourse. Continuum, n. 17(1), p. 51-68. doi: 10.1080/1030431022000049010.
CARYL - Cultural Association of Russian-speaking Youth in Lebanon. Retrieved from: https://www.facebook.com/groups/oleg.farah/.
COYER, K. and HINTZ, A. (2010). Developing the "Third Sector": Community Media Policies in Europe. In: B. Klimkiewicz (Ed.). Media Freedom and Pluralism: Media Policy Challenges in the Enlarged Europe. Budapest: CEU Press, p. 275-297. Retrieved from: http://books.openedition.org/ceup/2186.
GLADKOVA, A. A. (2015). Regional'nye Veb-saity Etnicheskih Grupp Rossii kak Otrazhenie Yazykovogo i Kul'turnogo Plyuralizma v Seti Internet (Russia Ethnic Groups' Websites as a Reflection of Linguistic and Cultural Pluralism in the Web). Vestnik Moskovskogo universiteta, seriya 10, Zhurnalistika (Bulletin of the Moscow State University, series 10, Journalism), n. 2, p. 17-39 (in Russian).
HOWLEY, K. (Ed.) (2010). Understanding Community Media. Los Angeles and London: Sage.
HUMAN Development Report (2016). Washington DC: Communications Development Incorporated.
JOHNSON, F. and MENICHELLI, K. (2006). What's Going on in Community Media. Washington: Benton Foundation.
KANAYAMA, T. (2007). Community Ties and Revitalization: The Role of Community Radio in Japan. Keio Communication Review, n. 29, p. 5-24.
KELLY, J. (2008). Pride of Place: Mainstream Media and the Networked Public Sphere. Cambridge: Berkman Center for Internet and Society at Harvard University.
KORKONOSENKO, S. (Ed.) (2015). Zhurnalistika Soobshestv: Opyt i Nauchnye Issledovaniya v Rossii, SShA, Severnoy Evrope (Journalism of Communities: Experiences and Researches in Russia, United States and Northern Europe). St. Petersburg: St. Petersburg State University, Philological Faculty (in Russian).
MANSIKKA, O. (2016). Bol'shoe i Mogushestvennoe Men'shinstvo –– Chislo Russkoyazychnyh Zhitelei Finlyandii Uvelichivaetsya (The Large and Powerful Minority – the Number of Russian-speaking Residents in Finland Increases). Helsingin Sanomat, October 4. Retrieved from: http://inosmi.ru/social/20161004/237968357.html (in Russian).
MANTERE, A. O nas (About Us). Retrieved from: http://kulsi.fi/o-nas/ (in Russian).
ORGANIZACIYA (Organization). Retrieved from: http://www.svkeskus.fi/organizatsiya (in Russian).
PAVLOV, A. V. (2016). Lokal'nye Gorodskie Soobshestva v Social'nyh Setyah: Mezhdu "Sosedskoi" i "Grazhdanskoi" kommunikaciei (Local City Communities in Social Networks: Between "Neighbor" and "Civil" Communication). Labirint. Zhurnal social'no-gumanitarnyh issledovaniy (Labyrinth. Journal of Philosophy and Social Sciences), n. 5, p. 46-57 (in Russian).
PERTSEVA, T. (2016a). Stat'ya Svetlany Ranty v Gazete "Etelä-Saimaa": Integraciya ? Process Dvustoronniy (Article by Svetlana Ranta in the "Etelä-Saimaa" Newspaper: Integration Is a Two–way Process). Retrieved from: http://faro.fi/ru/??????-????????-?????-?-??????-etela-saimaa-12-12-2016-?? (in Russian).
PERTSEVA, T. (2016b). Russkoyazychnoe Soobshestvo Finlyandii Razdrobleno Molchaniem (The Russian-speaking Community in Finland Is Fragmented Because of Silence). Retrieved from: http://faro.fi/ru/%D1%80%D1%83%D1%81%D1%81%D0%BA%D0%BE%D1%8F%D0%B7%D1%8B%D1%87%D0%BD%D0%BE%D0%B5-%D1%81%D0%BE%D0%BE%D0%B1%D1%89%D0%B5%D1%81%D1%82%D0%B2%D0%BE-%D1%84%D0%B8%D0%BD%D0%BB%D1%8F%D0%BD%D0%B4%D0%B8%D0%B8/ (in Russian).
POTTER, R. (2014). Community Media and Civil Society: Lessons from the Bolivarian Republic of Venezuela. Ph.D Dissertation. Urbana (Illinois).
QUALITY of Nationality Index. Retrieved from: https://nationalityindex.com/#.
RADCLIFFE, D. (2015). Where Are We Now? UK Hyperlocal Media and Community Journalism in 2015. Cardiff: Centre for Community Journalism (C4CJ) at Cardiff University.
ROSSIISKY Centr Nauki i Kul'tury v Beirute (RUSSIAN Centre of Science and Culture in Beirut). Retrieved from: http://www.rcnklebanon.com/russian-compatriots-lebanon (in Russian).
USTAV Koordinacionnogo Soveta Rossiiskih Sootechestvennikov v Livane (The Charter of the Coordination Council of Russian Compatriots in Lebanon). Retrieved from: http://media.wix.com/ugd/acf72e_33f57e85ed11414e9a4bf02b045b98c5.pdf (in Russian).
WALKER, D. M. (2011). Networked Public Talk: Attention, Difference, and Imagination in Online Urban Forums. Ph.D Dissertation. University of Michigan.
WATSON, B. R. and CAVANAH, S. (2015). Community Information Needs: a Theory and Methodological Framework. Mass Communication and Society, n. 18(5), p. 651-673. doi: 10.1080/15205436.2015.1059948.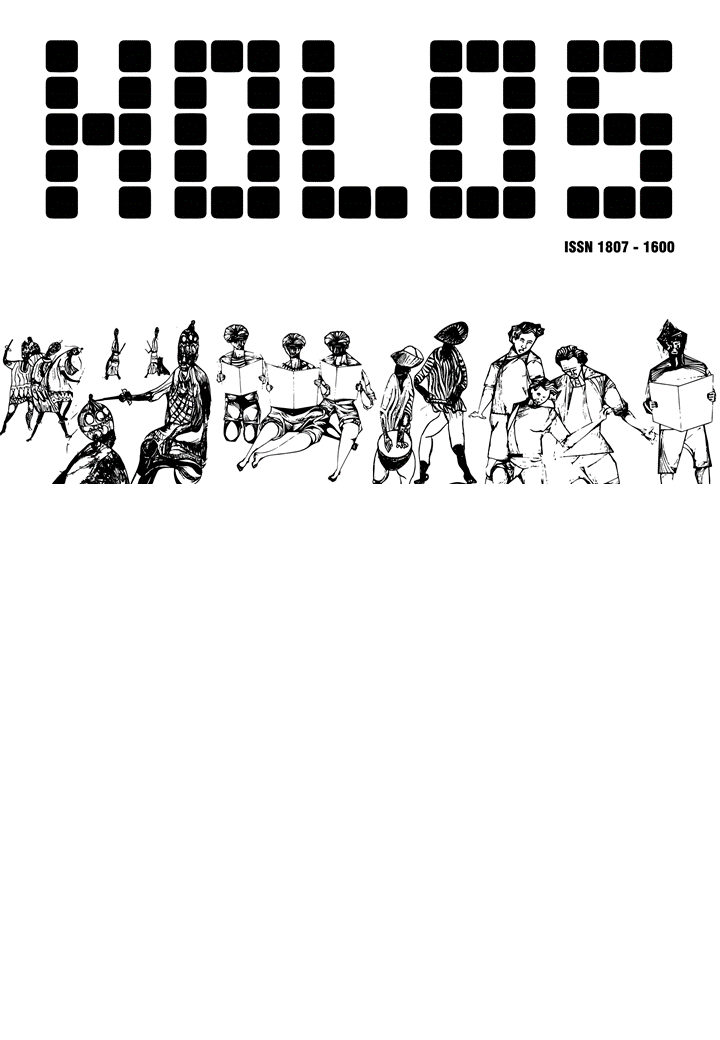 Downloads
Como Citar
Korkonosenko, S. G., & Berezhnaia, M. A. (2017). COMMUNITY MEDIA ONLINE: RESEARCH APPROACHES AND PRACTICES OF FUNCTIONING - CASE OF ETHNIC MEDIA. HOLOS, 5, 370–381. https://doi.org/10.15628/holos.2017.6106